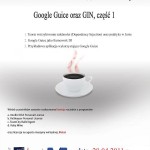 I'm honored to invite every one of you to next meetup of Szczecin Java User Group. This time Kazik 'morisil' Pogoda will be speaking about Dependency Injection library form Google called Guice. Before getting deep into Guice he'll explain what exactly DI is. Then we'll dive into Guice based example application.
This is a first from a series of lectures about Dependency Injection in java by Kazik. The next one will cover Gin, dependency injection library for GWT based on Guice.
If you are interested in those topics feel free to join us 28th of April (more detailed information about time and place you can find on poster above).