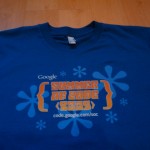 Mimo, ze oficjalne ogłoszenie wyników GSoC09 odbyło się prawie dwa miesiące temu, dla mnie google'owe lato z kodowaniem zakończyło się dopiero parę dni temu kiedy to kurier dostarczył do mnie paczkę z koszulka i certyfikatem.
Co do samego projektu, to niestety nie udało mi się go skończyć w wyznaczonym terminie. Osobiście stopień zaawansowania oceniam na 75-80%. Mimo to Reinhard (mój mentor) uznał, że wykonałem na tyle dobrą pracę że ukończyłem pozytywnie GSoC.
Koniec Summer of Code nie oznacza dla mnie końca współpracy z developerami Cocoon'a, zwłaszcza, że nie wykonałem w pełni stawianych sobie celów. Dodatkowo na horyzoncie pojawiły się nowe interesujące pomysły na rozwój modułu monitorującego trzecią wersję Cocoon'a.
Ostatnio pisząc o Summer of Code wspominałem o artykule traktującym o Spring JMX, miał on się ukazać w ciągu 2-3 tygodni … cóż nie udało się ale nie wydaje mi się by jego los był przesądzony ;). Wszystko jest ciągle kwestią czasu … jest to jedna z rzeczy którą chciałem zrealizować w czasie GSoC i ciągle pozostaje na mojej (dość, długiej(sic!) już) liście TODO.
---
EDIT:
Zapomniałem o jednej bardzo ważnej rzeczy … 90% napisanego przeze mnie kodu podczas GSoC znajduje się już w repozytorium ASF, a dokładniej mówiąc to jest tutaj. Natomiast całość kodu dostępna jest w archiwum znajdującym się pod koniec tej listy.